 My fiance, Sarah and I decided to take the van up to New Hampshire for the long holiday weekend. Leaving in the middle of a work week always seems to feel like you're getting away with something.  Sneaking away to a lazy destination when you obviously have something more important and productive to do.  I suppose I will always have the staunch almost rigid work ethic of my grandmother Sadie, born and raised in a Midwest Nebraska corn field; balanced with the almost teenage-like giddiness of my grandma Alice, who would like every good Catholic dutifully go to mass early on Saturday, so that she could cabaret and gamble in the bars, piers, and river boats of 1940's Galveston TX all day Sunday.  Like any good garden, balance of texture and form is always interesting.
Being the fourth of July, it is tradition to camp out with the family at the lake house, owned by my soon to be mother- and father-in-law.  It is one of those magical places where the outside world seems to be held back by forces unknown, behind the hemlock hedges, letting only sunshine and breeze through.  The near by town of Rindge offers the usual fare and necessities of a vacation home: hamburger, bread, eggs and alcohol, with absolutely no entertainment options such a movie theater or touristy shopping center.  This leaves you with no options but to create your own entertainment at the lake: a camp fire, a good meal, and occasional cigar, and oh yes, the highly competitive game of Jenga.
El Sol fared well on the trip and actually got up to the speed of 70 mph for approximately 60 seconds, when it then encountered a slight hill and quickly dropped back down to its usual 55 mph.  Ah but its classic nature, its sunny paint job and its uncanny ability to bring smiles to the faces of complete strangers passing him on the road (el Sol is a guy), makes up for his lack of speed.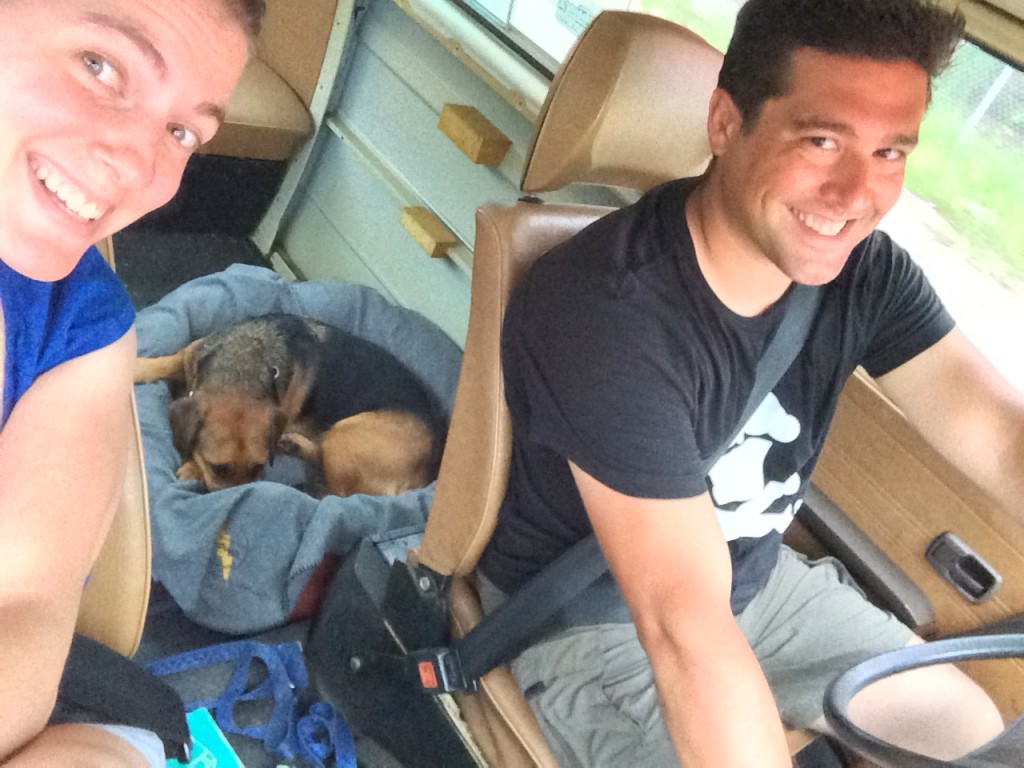 On the road with Sarah, Max and El Sol!
Trips to New Hampshire also afford the opportunity to enjoy landscapes that may or may not have been planted there on purpose.  A mix of wild, purposeful and sometimes invasive plants intermingling with each other, getting along in a united nations of plant life gives me hope for the world in general.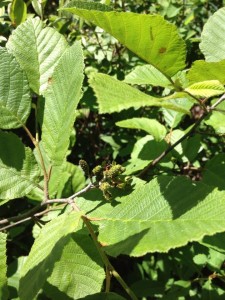 Between the sweet pepper bush,  (clethra alnifolia),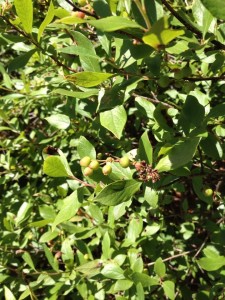 the wild blueberry (Vaccinium corymbosum),      
and predominately in my mind the waterlilies (Nymphaea odorata)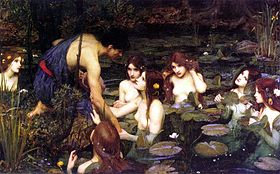 Like the immortal minor deities for which they are named, these nature goddesses attached to the specific environment of their births, popping up when and where they please, beholden to neither god or man, they live their amorous lives in freshwater ponds throughout the forests of New England, luring with their fragrance, and seducing with their voluptuously soft and multicolored flowers.  It is no wonder that artists such as Monet were so drawn to their form.  They were living dichotomies in that they are as free as their name-rights suggested; yet they are fixed, fastened, and dependant on the places, that they call home.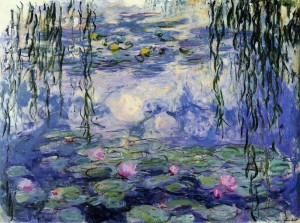 Have a safe holiday weekend!